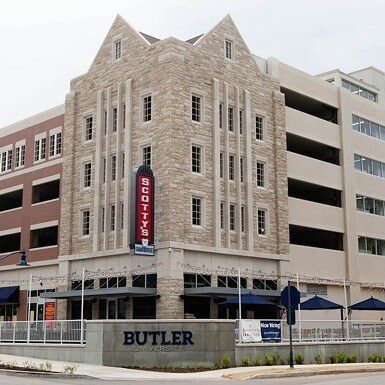 Scotty's Dawghouse opens in Butler University Multi-Purpose Parking Facility
Keystone Construction recently completed Butler University's multi-purpose parking facility, and it has already gained an exciting tenant with a lot of school spirit.
Scotty's Dawghouse, a Scotty's Brewhouse spinoff restaurant, now occupies 6,400 square feet of the structure. Located on campus between Hinkle Fieldhouse and Clowes Memorial Hall, the restaurant is open to all ages and family-friendly.
The $22 million dollar garage includes 1,034 parking spaces and 16,000 square feet of ground level commercial and office space. Keystone Construction was able to complete construction in just under 11 months, on time for the scheduled opening, despite the unusually cold start to winter.
Both Keystone Construction's completion of the multi-use parking garage and the Scotty's Dawghouse tenancy help move Butler University's plans for campus development forward.
Keystone Construction specializes in design-build, construction management, and general contracting services for healthcare, education, government, commercial, and mixed-use projects.
Keystone is based in Indianapolis, Indiana. For more information about Keystone Construction visit www.keystone-corp.com