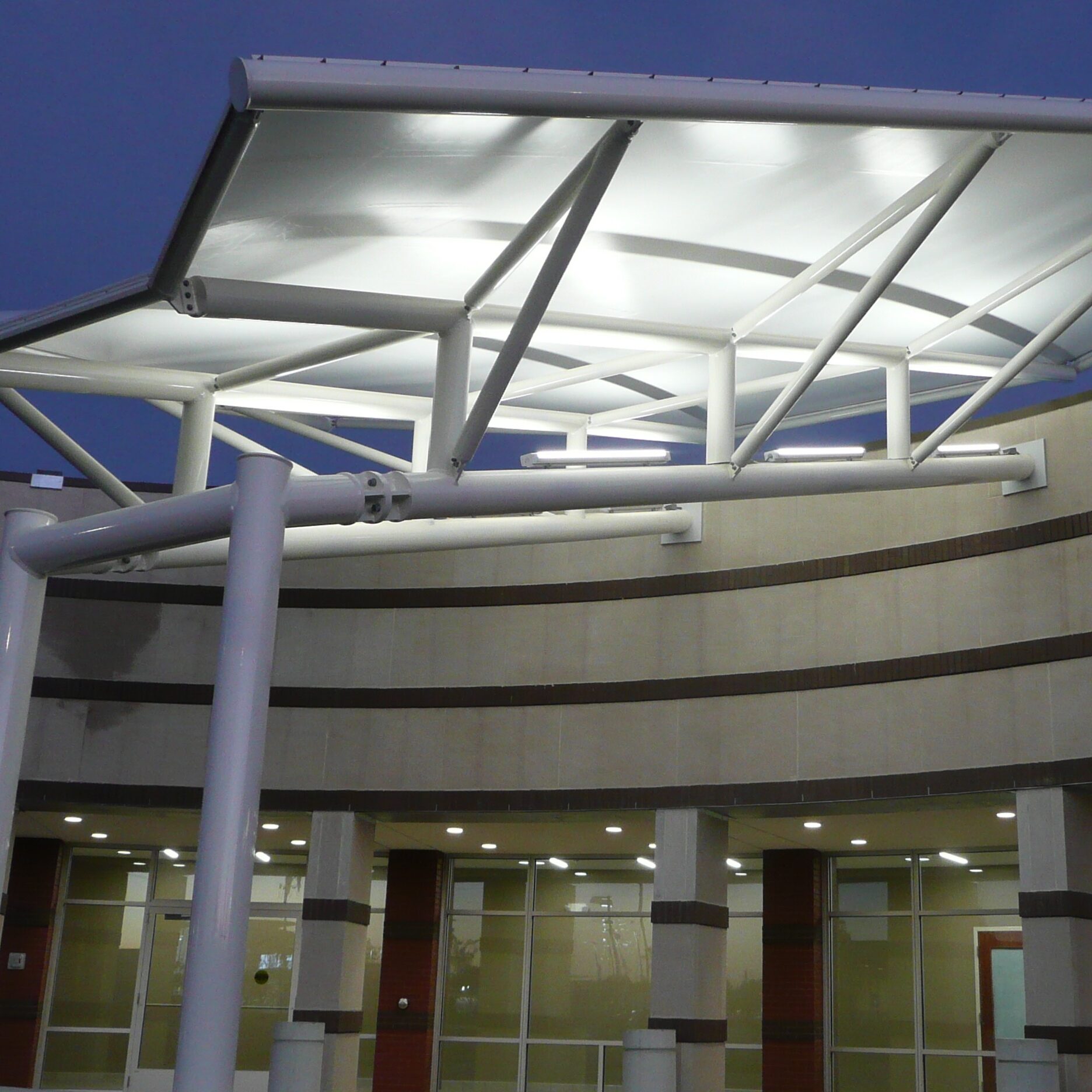 Fabric canopy at Johnson Memorial Greenwood intended to brighten patient's spirits
Most architects and contractors will tell you that a pretty space will improve one's mood, but did you know aesthetics in a medical space can facilitate healing?
According to John Hopkins University, aesthetic neglect can lead to increased anxiety in patients, interrupting a smooth recovery. That's why when it comes to the Johnson Memorial Greenwood, Keystone Construction and Cripe Architects are looking at the big picture. Although the medical team will directly treat the patients, we want the design to indirectly promote wellness.
Patients will experience the most interesting design feature before they walk through the door at Johnson Memorial Greenwood: a massive, lightweight, fabric canopy.
Fabric canopies are calming because the membrane takes a graceful, free-form shape, softening the appearance of an otherwise angular, sterile hospital environment.
"The new canopy adds an intriguing element to the building's design and greatly enhances the curb appeal of the new Johnson Memorial Hospital structure," Keystone Construction Project Director Bob Crowder said. "When lit at night, the canopy catches your eye from a half mile away in either direction; a feature that most buildings would like to have."
The canopy, designed by Cripe Architects, is as innovative as it is beautiful.
"Fabric has come a long way with the help of top-coat technology," Eide Industries' Matt Aulbach explained. "The TX30 fabric from Serge Ferrari is the latest example of an economic membrane solution with a 30 year life expectancy."
Eide Industries is building the tension structure in-house from 3D CAD models and shop drawings, then assembling it on-site. The height of the canopy ranges from 13'-6" to 24'-0", and the width ranges from 11'-3" to 38'-9".
When it comes to Johnson Memorial Greenwood, efficiency isn't the only thing on our checklist. We put the extra cost and time into structures that assist in patient care, yet meet the financial and operational goals of our clients.
To learn more about these medical office buildings, visit Keystone Construction's healthcare portfolio.