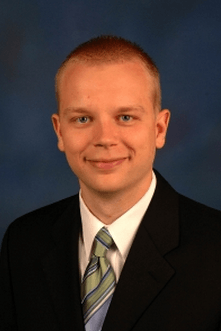 Keystone Business Development Director Receives NAIOP 2011 Developing Leaders Award
FOR IMMEDIATE RELEASE
September 9, 2011
Indianapolis, Indiana – Greg Martz has been named as one of the recipients of the 2011 Developing Leaders Award, presented by NAIOP, the Commercial Real Estate Development Association.
Martz is Business Development Director with Keystone Corporation, a real estate development, commercial construction, property management and investment firm located in Indianapolis.
He was one of the founding members of NAIOP Indiana and has chaired the chapter's Program Committee for the past two years. Martz is the chapter's President-Elect and will start his term in 2012.
In addition to his efforts on behalf of NAIOP, he is very involved in his community. Some of the organizations he devotes his time to include:
• Board of Directors, The Jackson Center for Conductive Education
• Board of Directors (Programs Chair/President-Elect), NAIOP Indiana
• Board of Directors, Friends of Garfield Park
• Board of Directors, The Continuum of Care of Greater Indianapolis
• Advisory Board, Indiana Living Green Magazine
• City of Indianapolis Green Building Task Force
• Super Bowl Legacy Project Team
• East 10th Street Business Recruitment Project Team
• Real Estate Development Committee, Near North Community Development Corp.
• Real Estate Development Committee, King Park Area Development Corp.
NAIOP President and CEO Thomas J. Bisacquino spoke of the importance of the Developing Leaders Award, stating, "The Developing Leaders program recognizes the vital roles that the young visionaries of our industry play in commercial real estate today and encourages diversity and professional growth among these outstanding professionals who will lead commercial real estate into the future."
Recipients of NAIOP's Developing Leaders Award will be celebrated at Development '11: The Annual Meeting for Commercial Real Estate, where they will benefit from unique networking opportunities and publicity surrounding the award. Development '11, which takes place October 18-20 in Scottsdale, Ariz., features three days of industry education, information sharing and events aimed at ensuring that NAIOP members have the most up-to-date information on industry trends, best practices and business strategies to achieve success.
In an effort to engage and encourage up-and-coming young commercial real estate professionals, NAIOP established the Developing Leaders Award in 2006. The honor was designed to engage tomorrow's leaders and connect them with NAIOP's increasing education and benefits available to new and developing professionals.
# # #
About NAIOP:
NAIOP, the Commercial Real Estate Development Association, is the leading organization for developers, owners and related professionals in office, industrial, retail and mixed-use real estate. NAIOP comprises 15,000 members in North America. NAIOP advances responsible commercial real estate development and advocates for effective public policy. For more information, visit www.naiop.org.
About Keystone Construction:
Founded in 1997 Keystone's services include general construction, construction management and design-build construction.Keystone's corporate headquarters are located in downtown Indianapolis. Some of Keystone's notable projects have included The Majestic Building, 3 Mass, Six Over Meridian, Madison Plaza and Sophia Square.