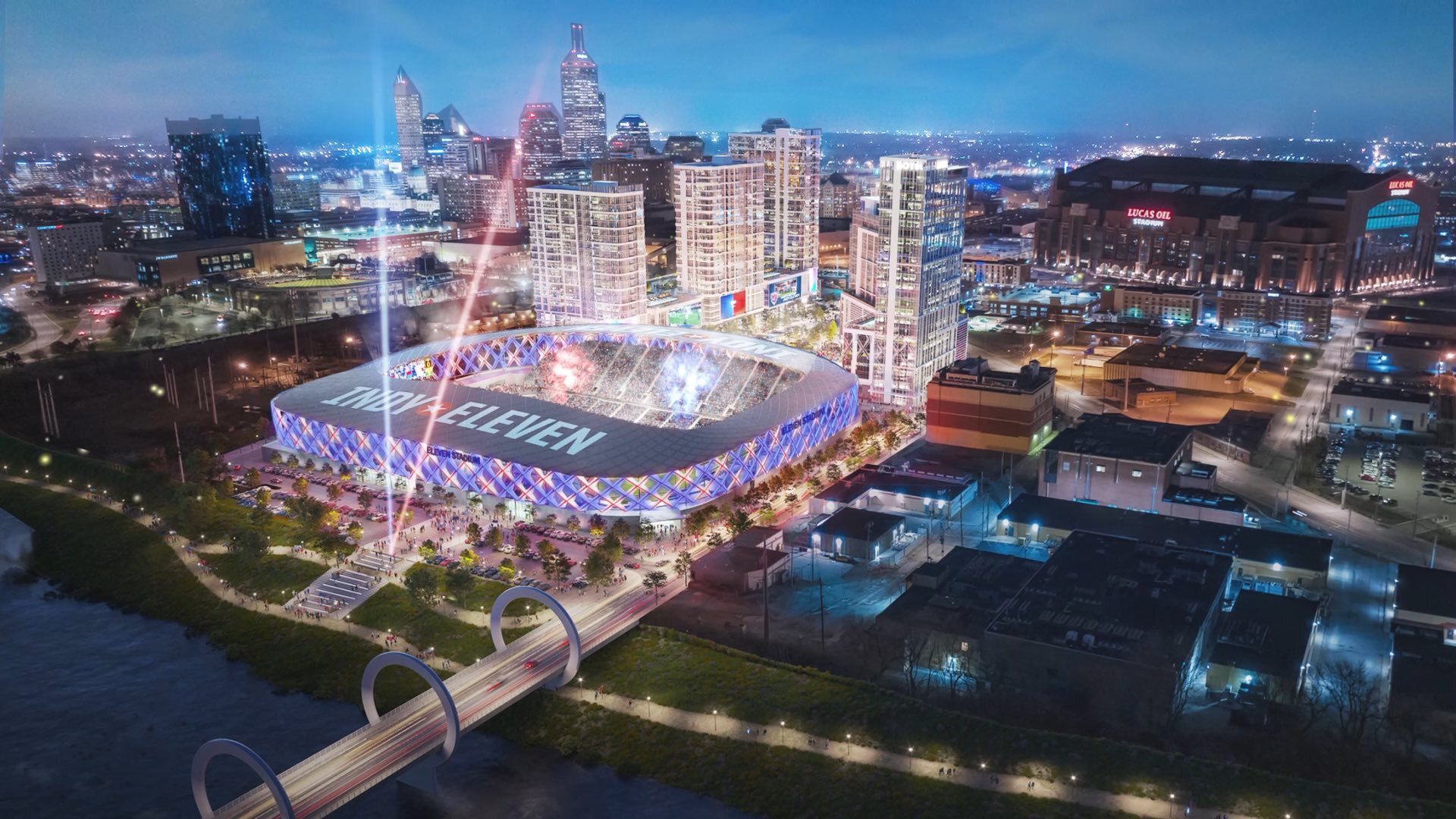 Indy Eleven and Keystone Group break ground on Eleven Park, a transformational riverfront development anchored by multi-purpose soccer stadium
FOR IMMEDIATE RELEASE
Governor Holcomb, Mayor Hogsett join Keystone Group, Indy Eleven chairman and founder Ersal Ozdemir and civic leaders to kick off construction
Indianapolis, Ind. – Officials from Indy Eleven and Keystone Group today were joined by state and city leaders for a ceremonial groundbreaking for Eleven Park, a transformational riverfront neighborhood development anchored by a multi-purpose soccer stadium that will serve as a permanent home for Indy Eleven. Demolition will begin immediately and continue over the next few months.
"Now rising from a formerly underutilized portion of our downtown, Eleven Park is a transformational riverfront development that will make a permanent mark on our city's skyline and its impact will be felt by generations of supporters, visitors and residents who will soon be able to enjoy its world class amenities," said Ersal Ozdemir, Chairman and Founder of Keystone Group and Indy Eleven. "With this groundbreaking, we are thrilled to mark a crucial milestone in the project, creating a new live, work, and play neighborhood for our city and region that has been a decade in the making."
Anchored by a 20,000-seat multipurpose stadium that will be the permanent home for Indy Eleven's men's and women's professional teams, the Eleven Park development will also include more than 600 apartments, 205,000 square feet of office space, 197,000 square feet of retail space and restaurants, hotels, public plazas and green space, parking, and more.
Governor Eric Holcomb and Indianapolis Mayor Joe Hogsett participated in the event and offered praise for the project.
"The Eleven Park project is a gamechanger for the capital city and magnet for the entire state," Gov. Holcomb said. "Eleven Park will create quality of life benefits for all Hoosiers that go far beyond a soccer stadium and will be yet another showstopper to add to our toolbox as we work to attract next-level investment from across the globe."
"Indianapolis is a global city, and Eleven Park presents an opportunity to grow the world's largest sport along the White River," said Mayor Joe Hogsett. "In this pivotal moment for downtown, developments like Eleven Park, the Henry Street Bridge, and the Elanco Headquarters will grow Indianapolis' skyline. As Keystone Group takes the next step to redevelop the Diamond Chain site, community input will be critical as we help build a more prosperous and inclusive city."
The private groundbreaking was attended by hundreds including state and local officials, along with business and civic leaders who have and will continue to play a role in the success of the development from fruition to completion.
The Eleven Park development is in downtown Indianapolis' southwest quadrant at the riverfront site which for more than 100 years was occupied by the Diamond Chain Company. The site is conveniently located just a block away from Lucas Oil Stadium, Victory Field, and the Indiana Convention Center and near the Eli Lilly & Company global headquarters and the Indianapolis Zoo. It is also at the epicenter of a range of new developments in the immediate area, including the new Elanco headquarters, the expanded White River State Park, and the extension of the Indianapolis Cultural Trail.
The project's lead designer is Populous, Browning Day is the architect of record and AECOM Hunt will be the construction manager for the stadium portion of the development. The stadium is projected to open in the summer of 2025.
For more information on this transformative neighborhood project, follow the @ElevenParkIndy and @IndyEleven channels on Facebook, Instagram and Twitter and visit elevenpark.com.
About Indy Eleven Professional Soccer
Since its launch in 2013, Indy Eleven's dedication to its club and community has been driven by empowering a culture of excellence through its players and staff, staying true to its aim of fielding teams that represent the State of Indiana proudly on and off the field. The 2023 season will be the 10th year playing men's professional soccer and the team is currently playing in the United Soccer League (USL) Championship, a 24-team professional soccer league based across the United States. Indy Eleven has also recently acquired a W League franchise and now a new top-tier women's professional team in the Super League. Indy Eleven launched a youth development program that has grown to over 16,000 children via affiliated youth clubs across Indiana. In addition to their USL Academy operations, they also will begin their Pro Academy in both MLS Next and ECNL starting July 1st, 2023. Learn more at indyeleven.com