IBJ: Law firm planning new HQ in downtown Fishers
Daniel Bradley
A Fishers-based law firm is planning to build a three-story headquarters near the city's Nickel Plate District.
Massillamany Jeter & Carson LLP, which specializes in criminal defense, plans to occupy the top two floors of the 20,600-square-foot building north of the Ellipse, opposite the Nickel Plate Amphitheater, at 14 Municipal Drive. The firm will own the building and will seek a tenant to lease the first floor.
Indianapolis-based Keystone Group has been hired to develop the building. Building plans call for a rooftop terrace and 60 parking spaces that will be used by the city on nights, weekends and special events.
"We wanted to move into the spot where we continue to grow, and this building will allow us really to be one of the largest mid-size firms in the doughnut counties, so we're really excited about that," MJC founding partner Chris Jeter told IBJ.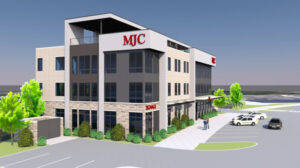 MJC was founded by Mario Massillamany, the chairman of the Hamilton County Republican Party; Jeter, a Republican state representative from Fishers; and Amy Carson.
In March, the law firm merged with Mark K. Sullivan & Associates P.C. and Mitchell Law Group. Jeter said MJC has 11 attorneys and 12 staff members, and the law firm plans to continue growing once it moves into the new building.
MJC received approval for site design and architecture from the Nickel Plate Review Committee on Wednesday. Jeter said construction is expected to begin in September.
MJC currently occupies about 3,000 square feet at 11650 Lantern Road, Suite 204, in Fishers.
"We really wanted a place where we could grow in Fishers," Jeter said. "We've been busting at the seams at our current spot, so we started talking with [the city] probably a year ago."
The new MJC headquarters will be built next to Flexware Innovation, a software and engineering-services firm.